Our Emulsion Making Plant is a high-tech, high yield, fully automated facility.  All processes including scheduling, cleaning (CIP) and chemical additions are controlled by a central, state-of-the art, process control system.
Available technologies include powder handling and solution preparation, dedicated plant for numerous crystal growth and photo-sensitisation schemes, desalination (flocculation and ultra filtration), and containerisation of solutions, slurries and dispersions.
A versatile plant layout ensures that the component units can be linked together in a variety of different ways to provide a bespoke manufacturing facility.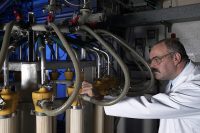 The highly-experienced manufacturing technicians and supporting team of engineers and scientists ensure that, together with a plant unsurpassed in terms of reliability and flexibility, we can either manufacture to specification or design and manufacture bespoke crystals for use in a variety of imaging and non-imaging applications.
 Ancillary Plant – Powder Handling and Wet Mixing
A versatile photo-emulsion plant requires a plethora of different supporting facilities.  HARMAN has an extensive ancillary plant where dispersions, slurries and solutions can be manufactured/stored/delivered via a range of handling and containerisation routes.  Deionised and deionised/reverse osmosis water is available where required.
Bead milling and a micro fluidiser is also available where modification of particulate size is necessary.
 Crystal Manufacture
HARMAN can service most growth technologies and are able to produce crystals with the differing compositions, sizes, habits and structures necessary to meet a variety of applications.  All processes and activities are managed by the Process Control system and all plant items are well served with monitoring and feedback devices to ensure a high level of batch-to-batch consistency.
Small-scale (Pilot Plant) facilities are available for development work and to provide for customers who are seeking small batches.
Photo-Sensitisation
Several different routes are available for carrying out surface conversions on crystals of a wide range of size, structure and composition.  Batch sizes of up to 1200L can be accommodated with several being made simultaneously
Separate Production Facilities are available for the chemical and spectral sensitisation of batches as small as 60L.