At HARMAN technology Limited, we can provide high quality and high-speed coatings of thin multilayer systems.
Our facilities currently produce the ILFORD PHOTO range of monochrome photographic films and papers along with specialist scientific products and are also fully capable for non-imaging applications.
Continued investment in both new technologies and in-house R&D has combined to provide arguably the most technically capable and flexible coating plant for thin multilayer coatings in Europe, and our years of knowledge and experience in the photo-coating market have proved invaluable as the business diversifies into other markets where multilayer coatings are required. Our facility is particularly experienced in coating layers containing micro and nano-sized particles.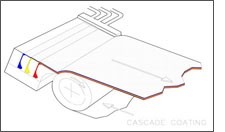 Multilayer cascade (slide bead) coating allows different and discreet functional layers to be coated simultaneously.  These thin multilayer packages can be coated onto a wide range of substrates including, paper, triacetate, vinyl, canvas etc. Critical or reactive components may also be added on-line, in precise quantities, at the moment of coating.
Although, the installation is used to coat aqueous formulations, there are facilities available for the preparation and handling of flammable components. Specialist process equipment is used to formulate more challenging components while numerous systems are available to handle aqueous solutions at a range of scales.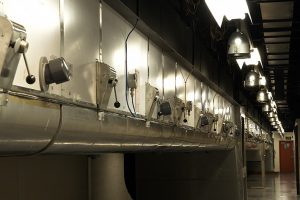 Coating is carried out under scrupulously clean conditions. The base is cleaned on-line prior to coating. High levels of process control are combined with on-line laser inspection, monitors for static, moisture and layer temperature and on-line testing facilities to ensure that quality standards are maintained.
Where necessary, the coated substrate can be pre-treated to ensure optimum adhesion of the coated layers.  In addition, and where relevant, the coated materials can have any curvature removed prior to reeling which, as for all the other activities undertaken within the facility, is overseen by the Process Control system.
Coatings are normally dried using a multizone air impingement dryer with "cascaded" temperature and humidity control managed by the Process Control system in conjunction with on-line sensors.  Product development is aided by the use of computer models of drying that have been developed to ensure the controlled drying of coatings containing a range of natural and synthetic polymers and binders.
For low volume products, rapid changeovers minimise unit costs with maximum flexibility. Alternatively, the 24hour/day continuous coating operation allows for long runs of single or related products.
Physical Capabilities
A wide range of physical capabilities adds to our flexibility:
Base Width 960mm to 1560mm
Roll Diameter up to 1100mm
Roll weight up to 1500kg
Base thickness 50lm to 500lm
The technical capability of the coating facility is supported by a highly trained and motivated workforce. The quality consciousness runs through the operation to include process operators, technical and quality support staff, shift management and maintenance.  Experienced work-based trainers ensure best practice operations are handed on to any new team members.
Product Specialists work alongside Account Managers to provide any technical support needed.  Where needed, pilot coating and coating development facilities are available to help establish new products and to simplify product transfers. There are also full product development and laboratory facilities available on site if required.
If you think that we may be able to help your business, then please contact us and we will be pleased to discuss your requirements with you